Saint Brigid's Day &  Women's Aid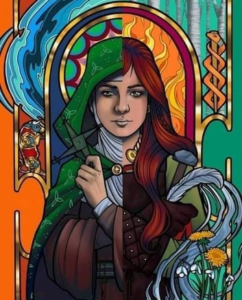 Saint Brigid's Day, is a Gaelic traditional festival. It marks the beginning of spring, and for Christians, it is the feast day of Saint Brigid, Ireland's Matron Saint.
Also known as "Mary of Gael," she's one of the most important figures in Irish culture, hovering between historical and mythological. As a Matron Saint, she looks over many: babies, children born out of wedlock, midwives, poets and scholars, travelers and seafarers, fugitives, blacksmiths, healers, Irish nuns, and farmers. Her feast day is widely celebrated every year. Much emphasis has been placed on her healing abilities, affinity with animals, and compassion for the poor. She lives on even in language—Brid agus Muire dhuit is still a common greeting, meaning "May Brigid and Mary be with you." Brigid's sheltering famous cloak gathered women of all traditions. Traditional religious persons honoured St Brigid.
TO KICK START FEBRUARY in line with St Brigid's message of sheltering Women some of our staff members are taking part in the "walk 85km in February challenge" for Women's Aid Dundalk.
By taking part in this challenge we hope to raise much-needed funds and awareness for Women's Aid.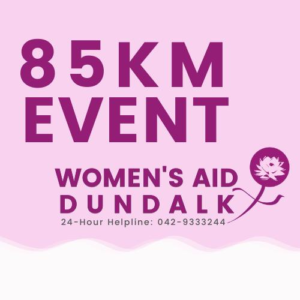 Women's Aid is a national frontline organisation supporting women and families affected by domestic abuse. They run a 24hr National Freephone Helpline, 1800 341 900 the national Instant Message Support Service www.womensaid.ie. Their local services in Dundalk also include refuge accommodation, 1-2-1 support, children's support services, court drop-in clinic, court accompaniment, outreach support, support groups, supported housing, The Playroom Project, No. 11 Accessible Charity Shop and training, education, and awareness.
https://www.facebook.com/100063624068423/posts/340027534794713/?d=n
85km For Woman's Aid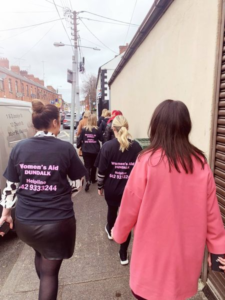 A great start to our 85 km for Women's Aid Dundalk challenge even managing to get out for a few lunchtimes walks as a team to keep each other motivated ( and away from the shops ).
 When deciding to take on this challenge, we read the Women's Aid mission statement and can see we have a shared set of values.
Mission Statement
Women's Aid Dundalk seeks to work towards the elimination of violence against women and their children in their own homes. Such violence occurs due to women's unequal position in society and is a violation of women's human rights. The guiding principles of Women's Aid Dundalk are that the organisation is non-sectarian and non-racist regardless of class, creed, sexual orientation, or physical ability. 
Our stated values include:
Feminist approach and philosophy informing practice

Respect for the individual
Human Rights protection
Freedom of expression
Mutual Aid and self-help approach
Non-judgemental service provision
Recognising power inequalities in society
A true strength of Women's Aid Dundalk is that regardless of status, there is shared compassion and concern for one another at the centre of the expertise in the organisation and this is inherent in all services it provides.
http://www.womensaiddundalk.net/
https://www.facebook.com/100063624068423/posts/342076027923197/?d=n
New Staff
                   
We enjoyed a delicious lunch in McGeough's Bar & Restaurant yesterday to brush off the Winter blues and to welcome Lyndsay Crawley Solicitor to our team. Lyndsay is a fantastic addition to our busy Litigation department in our office. Lyndsay has practiced in Litigation since 2010 and is highly experienced in all areas in particular:
Complex personal injury claims
Workplace accidents
Road traffic accidents,
Criminal injures
Public liability accidents
Complex medical negligence
Litigation claims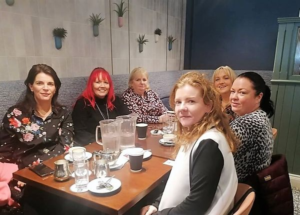 To Contact Lyndsay for a consultation:
Send an email to info@callison.ie or lyndsay@callison.ie
Call our office on 04293200854 / 02830251756
https://www.facebook.com/100063624068423/posts/336912551772878/?d=n
Lovely Surprises!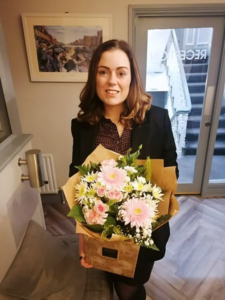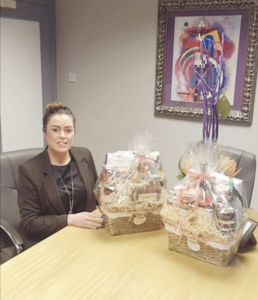 No January blues for Annemarie this week after receiving two lovely surprises from satisfied clients. 
First up were two lovely hampers from McAteers The Food House & Catering from a client as a thank you for completing a large property purchase on a short time scale. Secondly, she received a beautiful bunch of flowers from Blooms Flowers Dundalk for completing a residential purchase for a first-time buyer who was delighted to receive the keys to her first home. 
https://www.facebook.com/100063624068423/posts/333045448826255/?d=n
Beautiful flowers and card were sent in for Grace from a grateful family whose Family home was saved following a successful court-approved P.I.A and a High Court Appeal. Our P.I.A Solicitor's Catherine and Grace have been helping this Family for five years and never gave up until they got them a solution! Every Home Counts.
https://www.facebook.com/100063624068423/posts/312152427582224/?d=n
Christmas Jumper Day Walk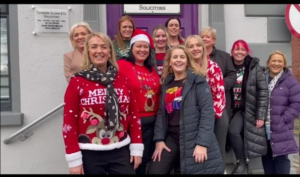 We had our Annual Christmas Jumper day and staff walk. We also visited and made our donations to the local St. Patrick's soup kitchen where we have seen the extraordinary work Father Mark and the rest of the members of St. Patricks Parish Soup Kitchen / Food Parcels do for people in need at this time of the year.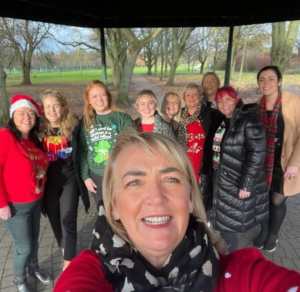 https://www.facebook.com/100063624068423/posts/309557441175056/?d=n